The 2012 Oscar Best Picture lineup included a number of crowd-pleasing movies, with perhaps the crowd-pleasingest of them all winning the big prize. Argo was Ben Affleck's big directorial achievement, a tense, based-on-a-true-story thriller about CIA specialist Tony Mendez (Affleck), who devises an elaborate plan to help exfiltrate six American embassy workers in Iran. The film features an all-star cast surrounding Affleck, including Alan Arkin, Bryan Cranston, John Goodman and Kyle Chandler, and the plot is similarly Hollywood-friendly, with Mendez pretending to be a location scout for a fake sci-fi movie as his cover in Iran.
There were so many pros in Argo's favor when it came down to Academy members voting for Best Picture, but perhaps the biggest of them all was the Affleck narrative. Affleck started off in Hollywood at the highest point, winning an Oscar with Matt Damon for writing the screenplay to Good Will Hunting in 1997. In years following he became fodder for tabloids due to his relationship drama, only to reemerge as a skillful director in the 2010s. He was cast as the comeback kid of sorts, the affable guy who left behind the Daredevils and the Giglis of the 2000s and showed he really did belong in this town.
But there were many other films in contention that easily could have won in other years. Life of Pi is the kind of sweeping epic with stunning visuals that used to win in earlier decades at the Oscars. Same goes for historical dramas like Lincoln and Zero Dark Thirty. Even a cute romantic dramedy like Silver Linings Playbook could have won in a weaker year. But Argo is the film that took it home, and here's how it happened.
Powered by Embed YouTube Video
The Socio-Political Climate
Another big year for superheroes, adaptations and sequels helped line the pockets of the Hollywood elite, but there was still a sense of unease about the direction the industry was going. The top of the box office included movies like The Hunger Games, The Dark Knight Rises, The Hobbit: An Unexpected Journey, The Twilight Saga: Breaking Dawn Part 2 and The Amazing Spider-Man. Towering above them all was Marvel's The Avengers, which grossed over $620 million in the U.S. alone.
And yet, the Top 20 at the box office also included three Best Picture nominees, Lincoln (no. 13 with $182 million), Django Unchained (no. 15 with $163 million), and Les Misérables (no. 18 with $149 million). The other nominees were no slouches, with Argo, Life of Pi, and Silver Linings Playbook all grossing over $100 million, and Zero Dark Thirty coming pretty darn close. This reflected how much recognition there was from the general public in the 2012 Oscars, especially compared to 2011, where only one Best Picture nominee grossed over $100 million.
It was a big year for the Academy in terms of trying new things, including hiring profane Family Guy creator Seth MacFarlane to host. He joined Emma Stone in announcing the Oscar nominations, with the pair making snide comments during the announcement and not presenting them in alphabetical order as had become custom. The show itself was marketed as "The Oscars" for the first time, perhaps a way of rebranding if "The Academy Awards" felt too stuffy for younger audiences. There were also a number of musical performances during the ceremony, including tributes to musicals, performed by Catherine Zeta-Jones, Shirley Bassey and Jennifer Hudson.
2012 was also an election year, with Barack Obama defeating Republican challenger Mitt Romney. Michelle Obama was a surprise guest for the Best Picture presentation. As is often the case in election years, there was a more deliberate focus on history and "what really matters," and that's why I believe we saw so many historical (whether real or fiction-based) films nominated, including Argo, Django Unchained, Les Miserables, Lincoln, and Zero Dark Thirty.
The Campaign
Argo premiered at the Telluride Film Festival on Aug. 31, 2012, as so many Best Picture winners have done in the past. The film earned huge raves from the start, with Deadline's Pete Hammond proclaiming it to be an early contender for Best Picture on the spot. Reviewers also noted that the film is not entirely accurate in portraying Canada's role in the extraction, and it did earn a bit of controversy for its depiction of Iranians as a whole. Still, it managed to deflect such bullets. While not as "substantial" as other contenders in the race, it maintained its presence throughout award season. Affleck was everywhere possible, including a splashy cover story for The Hollywood Reporter.
Based on acclaim, Affleck's name and its thrilling subject matter, Warner Bros. elected to give Argo a wide release on Oct. 12. The film opened to an impressive $19 million, and continued to make money through the rest of the year, passing the $100 million mark by the end of 2012. Its awards success helped bolster it even further, exiting theaters in April with a final gross of $136 million. Like other films this award season, it was a huge box office hit.
Argo started off strong at precursor awards, winning a handful of critics prizes. It went on to win Best Film at the Critics' Choice Awards alongside Best Director for Affleck, and won the same awards at the Golden Globes. Despite only Alan Arkin receiving individual acting nominations at all the major award shows, the film won Best Ensemble at the SAG Awards, cementing its status as the frontrunner to beat.
Meanwhile, the Oscar nominations had already been announced on Jan. 10, relatively earlier than usual. Argo earned seven nominations — for Best Picture, Best Supporting Actor for Arkin, Best Adapted Screenplay for Chris Terrio, Best Film Editing, Best Original Score, Best Sound Editing and Best Sound Mixing. Notably missing from its nomination total was Affleck himself in Best Director. This was easily one of the most shocking snubs in Oscar history, no question. This is the guy at the heart of Argo, the film that was supposed to win Best Picture, the movie star beloved in the industry who has 100 percent name recognition. That Affleck couldn't get nominated felt like a devastating blow to Argo's chances, considering only three films were able to win Best Picture with no Director nomination in the previous 84 years of Oscar history.
The "poor Ben" sentiment then began to permeate the air in Hollywood as every major award show gave their biggest prize to Argo. Warner Bros. was able to use Affleck's Best Director snub to their benefit, casting the film as an underdog of sorts that was wrongfully treated by Academy members. It ultimately worked out, despite the quality of the other nominees in the race.
The Other Nominees
Beyond Argo, the 2012 nominees for Best Picture can largely be split up into two categories: historical epics and resilient indie films. Lincoln was the most nominated film of the year at 12, including acting nods for Daniel Day-Lewis, Tommy Lee Jones, and Sally Field and a directing nomination for Steven Spielberg. It was the most awards-friendly film on paper, telling the story of President Abraham Lincoln (Day-Lewis) and his struggle to pass the historical amendment to abolish slavery. This film had everything in its favor, from an accomplished cast to one of the most beloved directors ever to celebrated playwright Tony Kushner writing the screenplay to John Williams composing the score. But it seems the movie failed to connect on an emotional level and it walked away with just two Oscars, Best Actor for Day-Lewis and Production Design.
One movie that did seem to connect with Academy members was Life of Pi. The film, adapted from the acclaimed book of the same name, tells the story of a boy lost at sea with only a Bengal tiger to accompany him. With stunning visuals and cinematography, the film is truly a wonder to behold, especially in 3D. The movie also packs a huge punch at the end, with an ambiguous ending that surely had many viewers pondering some of life's biggest mysteries. Ang Lee won Best Director, likely benefiting from Affleck's lack of a nomination, but I believe the film had a real shot at Best Picture, having picked up the most wins of the night (four, from 11 nominations). In addition to Best Director, Life of Pi also won Best Cinematography, Best Original Score, and Best Visual Effects.
Zero Dark Thirty had enormous buzz in the months leading up to its December release, from its subject matter (the tracking down of Osama bin Laden) to its production team (director Kathryn Bigelow and writer Mark Boal, who each won Oscars for The Hurt Locker three years previous). But then the negative attention hounded the film on both sides of the aisle, with Democratic leaders claiming its depiction of enhanced interrogation techniques was "pro-torture propaganda," while one Republican leader stated that the film had gained access to classified material. It was a bad combination of press, which likely decreased its nomination total down to five, including a very notable snub for Bigelow in Best Director. It walked away with one victory, tying with Skyfall for Best Sound Editing.
Django Unchained was Quentin Tarantino's latest entry into the revisionist history genre following his wildly successful Inglourious Basterds in 2009. Centering on a freed slave (Jamie Foxx) teaming up with a German bounty hunter (Christoph Waltz) to find his captive wife, Tarantino borrows from numerous Spaghetti Westerns to create a highly stylized, often humorous revenge tale. While it does dwell on the brutality of being black in America in the 1800s, its primary focus seems to be providing a satisfying thrill ride for the audience, and it more than succeeds at this. Waltz earned his second Oscar in Best Supporting Actor, having previously won for Inglourious Basterds, while Tarantino earned his second in Best Original Screenplay, having won in 1994 for Pulp Fiction.
Les Misérables was the other big historical epic nominated for Best Picture, though one with significantly less enthusiastic reviews than the others. An adaptation of the stage musical, which was itself based on the classic Victor Hugo novel, director Tom Hooper instructed his actors to sing every song live on set (as opposed to lip-syncing from previously recorded tracks), and your mileage may vary on how this benefits the film. The movie, starring Hugh Jackman, Russell Crowe, and Anne Hathaway, was a sizable hit and delighted moviegoers, but numerous critics were turned off by the entire production. Regardless, the film earned eight Oscar nominations and three wins, including Best Supporting Actress for Hathaway ("I Dreamed a Dream" alone gave her the win), Best Makeup and Hairstyling and Best Sound Mixing.
Moving on to the indie darlings, Amour and Beasts of the Southern Wild are forever linked, in my eyes, for what they were able to accomplish this Oscar year. Amour, a French film by Michael Haneke about an elderly couple coming to terms with aging and death, and Beasts of the Southern Wild, about a young girl living in the Louisiana bayou, could not be more different on the surface but their stories are largely the same. Both were huge critic favorites in festivals like Cannes and Sundance; both were vastly underestimated in relation to bigger films in the race; both told beautiful, universal stories despite being hyper-specific. Both of their directors, Haneke and Benh Zeitlin, also snuck into Best Director when very few were predicting them, over the likes of Affleck and Bigelow. Amour earned six nominations, including Best Actress for Emmanuelle Riva, and won Best Foreign Language Film. Beasts of the Southern Wild received four noms, but was the only Best Picture nominee to not win at least one Oscar that night.
Finally, Silver Linings Playbook. Bradley Cooper shines as a man battling mental illness who connects with a kindred spirit (Jennifer Lawrence). It is a charming film, filled with witty dialogue and energetic performances, with unobtrusive direction from David O. Russell. Some may dismiss it as simply "decent" and not deserving of the amount of acclaim it received, but there is a kinetic energy to this film that I believe warranted the amount of Oscar love it received. It earned eight nominations and made history as the first film to earn a nomination in each of the four acting categories since Reds in 1981. Lawrence, hot off her skyrocketing success with The Hunger Games, ultimately won Best Actress, making her the second-youngest winner in that category at the age of 22.
The Final Vote
Much like 2011 with The Artist, the Best Picture winner of 2012 was a foregone conclusion. Argo had won all of the major precursors leading up to the Oscars, including Best Picture at the Critics' Choice Awards, Best Picture — Drama at the Golden Globes, Best Ensemble at the Screen Actors Guild Awards, Best Film at the BAFTAs, Best Director at the Directors Guild of America Awards, Best Adapted Screenplay at the Writers Guild of America Awards and Best Film Producer(s) at the Producers Guild of America Awards. This kind of a sweep is virtually unbeatable, even if films like Lincoln, Life of Pi, Les Misérables and Silver Linings Playbook had more Oscar nominations.
As for why Argo pulled off a clean sweep, there were a number of factors. For one, the Affleck narrative was very resonant in Hollywood at the time. People were rooting for the guy and his big passion project, especially after he missed out on the Best Director nomination. The film also employed some of the most well-known working actors, giving voters a sense of familiarity. But ultimately Argo is a tale about the enduring power and magic of Hollywood. It shows how the illusion of celebrity and movie-making can be so pervasive that it spans countries and languages to the point that it can solve an international crisis. It also helped that the seemingly unbelievable plot was based on a true story, adding at least some sense of importance and reality.
In a year of so many polarizing films, like Zero Dark Thirty, Les Mis, Lincoln and Silver Linings Playbook, it is also no wonder that Argo won with the Oscars' preferential ballot system. Argo is a good movie, but I don't believe it's so outstanding that it would win with no. 1 votes. It is in the no. 2 votes that Argo likely carried the day, a film people respect enough to not get mad if it wins Best Picture but may not feel as passionate about it. And thus, the Ben Affleck redemption story was complete.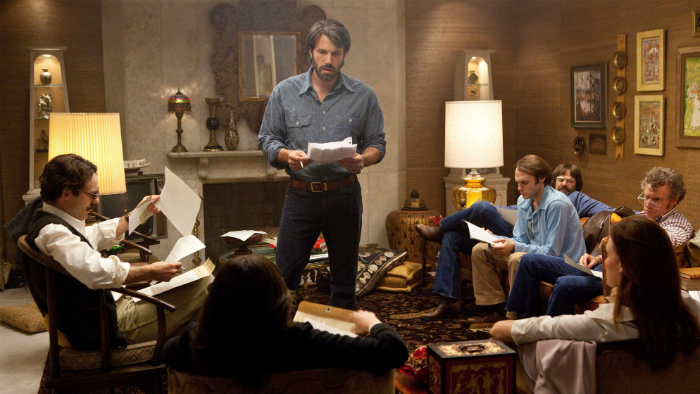 The Film Itself
Argo is a perfectly decent movie. It has strong production values, with apparent care taken in recreating the state of the world in the early 1980s. While the tone of the film changes as it proceeds from straightforward docudrama to energetic Hollywood romp to its tense action finale, it maintains a level of building suspense that propels it forward. The cast is competent enough, with Arkin and Goodman bringing the most life to their characters. But even having rewatched Argo just a few hours ago as of this post, I find myself underwhelmed, and at a loss for what I'm supposed to take from the film.
Many have expressed their issues with this film in the context of its historical inaccuracies, which are problems that should not be ignored when assessing it critically. But even on a filmmaking standpoint, it is hard for me to argue that Argo deserves to be heralded as a Best Picture winner. Affleck's performance as Tony Mendez, our main hero we're supposed to like or at least be invested in, is remarkably flat. I understand not wanting to distract from the plot, but the film does not make me care about this guy even if he does end up being a hero in the end. Similarly, the six Americans trapped in Iran are not given any kind of dimension so it is difficult to drum up sympathy for their situation. I will say this: the film's final act is well-crafted as a nail-biting thriller as Mendez and the captives try to pass through an Iranian airport, and it is where this thing comes the most alive. The mission is complete and everyone goes back to their normal lives. Great.
But to me, the foundation of a great film lies in how it affects you. For dramas, it is in how they move you. For documentaries, it is in how they get you to think about a subject you may not have given much thought to before. For comedies, it is in how they give you comfort or cathartic release in bad situations. Considering Argo under this criteria, the film's message appears to be, "Look at this crazy story. Can you believe it really happened?" First, this isn't really the case, as outlined by various historical critics including President Jimmy Carter himself. Second, why do I not care? The Iran hostage crisis is indeed a crazy story, but there is an unengaging greyness to Argo that keeps the audience at a distance. A movie shouldn't disappear into a wisp after watching it, especially with such a talented cast and crew behind it, working from such juicy material.
Will Argo Stand the Test of Time?
I have some issues with Argo, from its lack of a real point of view (outside of rah-rah American patriotism) to its misrepresenting history. Despite these issues I don't think it's a particularly "bad" film by any means. As mentioned, Chris Terrio's script is tight and tense, the production design is top notch and Affleck crafts the third act like the best of Old Hollywood capers. The issue with Argo is that it simply isn't as interesting as it thinks it is. There was a big hullabaloo over Affleck's lack of a directing nomination, but looking at the other films in contention, I cannot say that he was truly "snubbed."
As future cinephiles look back on Oscar history and finally get to 2012, I do wonder how they will react. In a year with truly great films nominated, like Zero Dark Thirty, Amour, and Life of Pi, as well as fan favorites like Django Unchained and Silver Linings Playbook, will they look back and say "Wait, Argo won?!" I do not think Argo has stood or will stand the test of time. It will be remembered as the film that most exemplifies the preferential ballot system, an example of how being everyone's second favorite film does not warrant Best Picture.
Think I'm wrong? Want to form your own opinion? To watch Argo for yourself, it is available to rent or buy on Amazon, and DVD
, Blu-ray and 4K Ultra HD through the following links: